Many women love to wear stripes. However, the direction and location of the stripes can change your appearance pretty drastically, so it's important to understand what they do and how to pick ones that flatter your body.
Look at these striped dress style illustrations.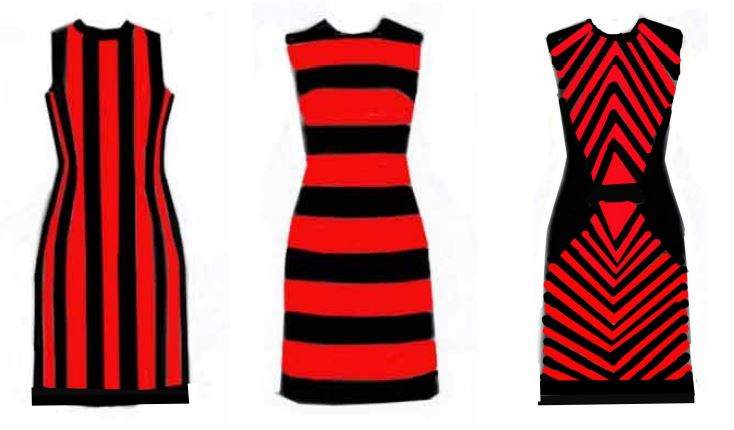 Vertical Stripe             Horizontal Stripe               Chevron
Here's what they do:
Vertical stripes create the imagery of height and thinness
Wide, horizontal stripes make us look heavier and shorter (great if you're tall and lanky and want to shorten or add dimension to your body)
Chevron patterns going upward create the illusion of fullness (best for small breasted women)
Chevrons pointing downward create the illusion of thinness
Color blocking at the waist (as seen in the Chevron example above) is a commonly used illusion to creating a waistline in women who have little waist definition or to create a smaller waistline in others
Understanding how garments can create optical illusions to enhance your figure is the art of dressing well. The goal is to enhance your best points while minimizing others.
Look at these two women below.
They are both heavier plus-size models wearing maxi dresses. Look at the difference the direction of the stripes make! The horizontal stripes make the woman on the left look heavier, whereas the diagonal and vertical stripes are attractive and slimming on the other woman.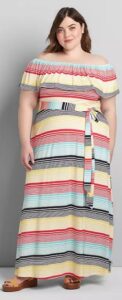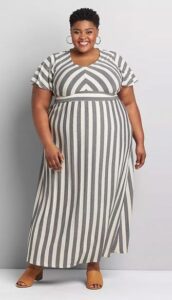 Here's another example, this time comparing a striped dresses with a solid one on the same woman.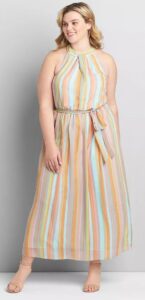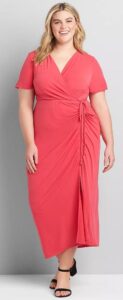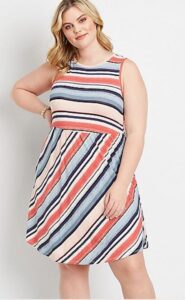 Though we often think of solids as being a more slimming choice, the right vertical pattern is actually better in this example because of the pattern direction, stiffer fabric and style. She looks balanced and attractive (and the colors work too!).
By contrast, the wrap-style dress in the solid color makes this woman look heavier, even though the color is great for her coloring. This dress style draws too much attention to her hips and is in too clingy of a fabric.
Here's one more example, comparing how attractive, waist-shaping and slimming Chevron striped styles can be!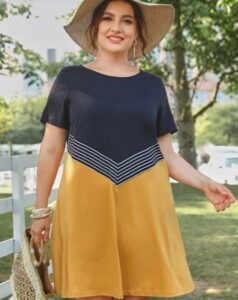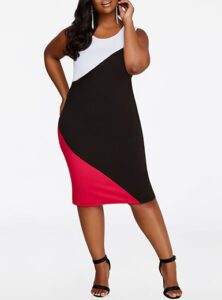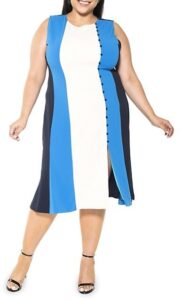 The bottom line:  If you want to add width, go with horizontal stripes. If you want to look slimmer, go with vertical or diagonal stripes.
Want More Specifics About Your Particular Body?
Our Perfect Clothing Fit service will give you the tools and information you need to wear the most flatter clothing patterns, lengths and styles for your body shape and proportions. In addition, our Color Analysis service identifies the best colors for your skin, hair and eye coloring, giving you a palette of 40 colors to take shopping. Contact us today to learn more!