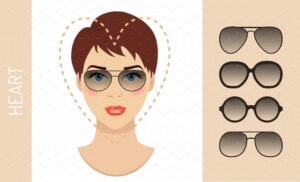 Heart & V-Triangle Face Characteristics
Heart and V-Triangle shaped faces are widest at the forehead then slope to a narrower jaw and chin. The difference between the two is the angularity of the the jaw and chin, with the Heart being softer and the V-Triangle being more angular.
Glasses Goal
To minimize the wide upper part of the face by shifting attention downward to lengthen the forehead and balance the face.
Good Frame Options
Frames with rounded edges, including: Aviators, Cat-eye shapes, Butterfly, Rounded and Octangular styles work well.
Avoid
Frames that are rectangular or overly angular
Want More Help With Your Face Shape?
Radiant Image's Perfect Clothing Fit service provides you with a complete style guide for your face shape, including hairstyles, glasses, necklines and accessories. Your style guide also includes clothing styles for your body shape and proportions. Contact us to learn more!