Do You Avoid Wearing Makeup Because You Don't Want to Look "Made Up?"

As a personal image consultant I work with women of all ages, however most of my clients are women over 40. That's because it's the age when things begin to change with our face and bodies – a few more lines or pounds, looser skin, eyes becoming more hooded and perhaps some uneven skin coloring. I'm sure you have your own list.
While there is much to celebrate about the second phase of life, it takes a bit more effort to look vibrant and attractive. At 56 years old, I understand this reality. I find that I can look tired around the eyes even when I am fully rested. The downward turn of my mouth and eyes have become a bit more accentuated. I have a few more lines on my face. As a result, I tend to wear makeup more often than I used to because I just look and feel better with it on.
And that's the point. It's important to feel good about yourself. When I like what I see I have more positive energy, and that makes me happier.
Older women tell me all the time that they feel less attractive than they once did. The word "frumpy" is used a lot. They want to look and feel good but at the same time they don't want to spend an hour in front of a mirror to do so. The good news is that you don't need to, but you do need to spend some time. A little lip balm, concealer and mascara are not going to get the job done.
The focus of makeup on a mature woman is to create an enhanced, natural appearance.
Here's some basic tips…
Use corrective concealers if you have skin discoloration – Dark coloring in the inner eye wells, bags under the eyes, brown spots or red areas can make you look older than
you are. Corrective concealers help neutralize these issues.
Mint green – use to diminish reddish or brown areas (apply on lids, blemishes, scars, capillaries)
Yellow – use to neutralize gray, blue or purple areas (apply to inner eye wells, veins, scars)
Lavender/Pink – use to reduce olive or sallow areas (apply to dark circles under eyes, forehead, jaw area)
Wear foundation – Select a liquid foundation that matches your skin tone and provides appropriate coverage. Sheer foundations can work well if you have smooth, even skin. Choose one with a little luster as they can give a visible boost to dull skin. Choose medium or full coverage if you have uneven or age-spotted skin. Liquid foundations are best for mature skin because they are moisturizing and are more forgiving. They will not create that "caking" look around wrinkles. Apply one dot to your forehead, cheeks, nose and chin, covering the concealer colors. Blend with a blending sponge (never use fingers!).
Wear an eyelid base (primer) – As we age our eyelids often have thin, red lines or other discoloration that causes our eyes to look darker. An eyelid base neutralizes these discolorations and also helps eye shadows go on smoothly and last longer.
Use translucent loose powder – Powder helps set the foundation, gives a smoother skin appearance and helps with blush and eye shadow application.
Avoid frosted or shimmery eye shadows – They show every line, bump and wrinkle. Instead, choose matte versions. I like to go with three colors – a light base, a medium contouring color, and a darker accent. These colors should be based on your eye color and overall coloring (if you're warm or cool). Browns work for pretty much everyone.
Blue eyes – Shadows with blue tones, including teal, can bring blue eyes forward. Oranges and coppers make blue eyes look bluer.
Light Green/Blue-Green eyes – Shadows with purple undertones make green eyes look greener. Teals and blue-green tones also bring out the eyes.
Brown & Hazel eyes – Shadows in browns, olive, pine green can make these eyes sparkle!
Apply eye shadow and liner for your eye shape – Eye shadow and liner application varies depending on your eye shape. Though there are numerous eye shapes and challenges, the Hooded eye is the most common later in life. To be able to see the eye shadow and have it enhance your appearance, apply it in the following manner:
A = lightest eye shadow color. Apply to full lid and up to eye brow
B = medium contour color. Apply as shown, beginning in the crease at the outer edge of the iris. The more hooded the eye, the higher you will need to go above the crease to see it.
C = darker accent color. Apply at the outer edge of the eyelid, then sweep up to blend with the "B" color just above the crease. If needed, blend afterwards with the "A" color.
Liner Color & Application – Select a liner to match your eye coloring and overall tone. Brown liner works for everyone, however if you are using an accent color to match your eye color, go with the following: Blue eyes = blue liner; Light Green/Blue-Green eyes = Teal liner; Brown & Hazel eyes – Brown, olive or pine-colored liner

Upper lid: Begin at the outer edge of the iris and line to the outer edge of the eye. Bottom lid: Line the full lower lid, going under the lashes (never on top near the eye).
Use an eyelash curler with mascara – It opens the eyes which is needed as we age. Apply mascara in a zig-zag motion from the base of the lash up to the tips.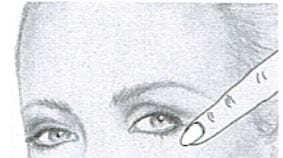 Create those brows – It's common for eyebrows to diminish over time. Find a liner that matches your natural eyebrow color. If you have few eye brows, a pencil variety is best whereas a powder w/brush is often better if you just need to fill in small areas. Either way, the brow should extend for the end of the eye, as shown. A medium, natural thickness is best. Too thin looks fake and too thick looks overbearing.
Create dimension with blush – Many mature women tell me they never wear blush. Next to creating a smooth skin appearance, it is probably the most defining thing you can do to give your face dimension. Choose a blush that is appropriate for your cooler or warmer skin tone. Peachy pinks are best for warmer tones whereas pinky pinks work for cooler skin coloring. The darkness of the color depends on your skin. If you are fair, go for lighter shades. If you are medium in tone, go for medium shades, etc. Technique: Begin at your hairline, then swish to the pillow of your cheekbone and back again.
Thin Lips? Use a Lip Liner – While all lips look best when defined with a liner that is a shade darker than the lipstick color, thin lips need it more because it helps bring them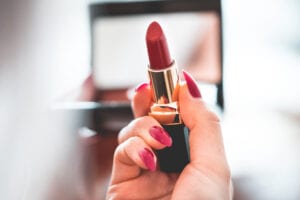 forward by making them a bit larger. Technique: Line just above the natural lip line to create fullness.
Avoid bright or dark lipstick – It commands too much attention and looks overly harsh on mature women. Instead, go for softer tones that match your overall coloring. If you're warmer, go for lipsticks with golden undertones, such as cinnamon or salmon pink. If you are cooler, go for a soft coral pink or light plum.
Interested in having someone help you select and apply makeup for your specific features?
Radiant Image offers a variety of makeover options, including a focused session on skin care and makeup that analyzes what is going on under your skin, offers suggestions for skin care, then selects makeup colors that are appropriate for your coloring. We'll walk you through how to apply the makeup for your features too, and you can bring the makeup you already own to see how it compares. Contact us today for more information!