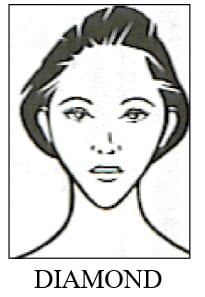 You are a Diamond face shape if your cheekbones are the widest part of your face, your forehead is narrower and you have an angular jaw line that tapers to a defined chin.
Hairstyle Goals
To add fullness and width to the forehead and chin areas for balance.
Attractive Styles include:
Shoulder length cuts with waves or curls at jaw line and lower
Styles that add volume at temples and chin
Parting your hair to the side with thick, side-swept bangs
Styles to Avoid
Styles with too much height on top, particularly ones with no bangs
Tightly side-cropped hair
Middle parts – make the face look too long
Blunt cuts worn straight, especially when ending at the jaw line
Want More Help With Your Face Shape?
Radiant Image's Perfect Clothing Fit service provides you with a complete style guide for your face shape, including hairstyles, glasses, necklines and accessories. Your style guide also includes clothing styles for your body shape and proportions. Contact us to learn more!