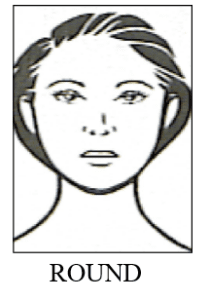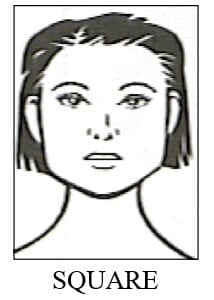 You are a Round or Square face shape if the width of your face is approximately the same as its length. These are the shorter face shapes. The difference between the two is the angular or rounded nature of the jaw and chin.
You are a Round face shape if your jawline and chin are rounded and soft. Conversely, you are a Square face shape if your jawline and chin are angular and there is a straight line from your temple to your jaw.
Hairstyle Goals
To add height to the face to create the illusion of a slimmer face.
Attractive Styles include:
Styles that provide height and volume at the crown
Adding length by styling hair towards the top of shoulders – shags
Styles with layers, including long styles
Parting hair off the the side
Adding curls around crown but not near cheeks
Styles to Avoid
Overly curly hair (Round faces)
Very short, closely cropped cuts with no height at the crown
Straight, heavy bangs – shortens the face!
Chin-length bob cuts
Want More Help With Your Face Shape?
Radiant Image's Perfect Clothing Fit service provides you with a complete style guide for your face shape, including hairstyles, glasses, necklines and accessories. Your style guide also includes clothing styles for your body shape and proportions. Contact us to learn more!