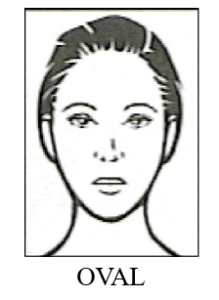 You are an Oval face shape if your cheekbones are the widest part of your face, your forehead is narrower and you have a contoured jaw line that tapers to a rounded chin (like an inverted egg!).
Hairstyle Goals
Considered the most balanced face shape, your goal is to maintain your balanced proportions.
Attractive Styles include:
Shorter styles angled at the jawbone to compliment your cheekbones
Long hair with center or side part
Styles that work with your natural hair texture
Styles to Avoid
Cuts that add too much height at the crown
Too short of hair
Styles that add too much volume at the temples
Blunt, straight bangs across your forehead – they shorten your face!
Want More Help With Your Face Shape?
Radiant Image's Perfect Clothing Fit service provides you with a complete style guide for your face shape, including hairstyles, glasses, necklines and accessories. Your style guide also includes clothing styles for your body shape and proportions. Contact us to learn more!