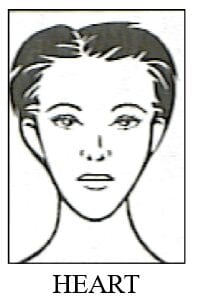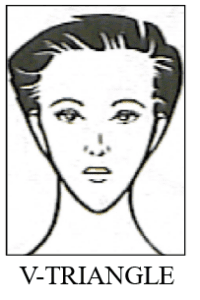 You are a Heart or V-Triangle face shape if your forehead is the widest part of your face then slopes down to a narrower jaw line and chin. The difference between the two is the angular or rounded nature of the jaw and chin.
You are a Heart shape if your jawline and chin are rounded and soft. You may also have a Widow's Peak as shown in the top photo above of actress Alyson Hannigan.
Conversely, your face is a V-Triangle shape if your jawline and chin are angular, as in the above photo of actress Reese Witherspoon.
Hairstyle Goals
To give the illusion of a narrower forehead and wider jawline.
Attractive Styles include:
Styles with curls or waves around cheekbone
Styles with fullness directed away from the to widen chin
Collarbone-length crop hair with uniform layers and sweeping side bangs
Light fringy bangs to cover forehead
Long hair with wavy layers to give the illusion of a wider chin
Add volume and body to the jawline with curls at the ends of medium/long hair
Styles to Avoid
Thick straight bangs
Styles that are straight with no body or curve inward at jawline
Want More Help With Your Face Shape?
Radiant Image's Perfect Clothing Fit service provides you with a complete style guide for your face shape, including hairstyles, glasses, necklines and accessories. Your style guide also includes clothing styles for your body shape and proportions. Contact us to learn more!