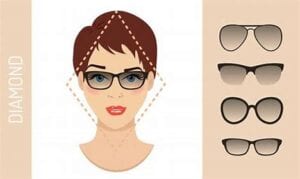 Diamond Face Characteristics
Diamond shaped faces are narrow at the forehead and jawline, and have broad cheekbones that may be high and dramatic.
Glasses Goal
To balance the angles of the face by choosing softly curved styles no wider than the cheekbones. Oval and rimless frames compliment high cheekbones.
Good Frame Options
Aviators, Sport styles, Oval styles, Wayfarers, Horn-rimmed, Cat-eye shapes
Cat-Eye frames are great but these
are too dark for JLo's features.

Want More Help With Your Face Shape?
Radiant Image's Perfect Clothing Fit service provides you with a complete style guide for your face shape, including hairstyles, glasses, necklines and accessories. Your style guide also includes clothing styles for your body shape and proportions. Contact us to learn more!