Women usually love what they buy, yet hate two-thirds of what's in their closets
– Mignon McLaughlin, The Neurotic's Notebook.
Those words were written in 1960 and remain as true today as they did back then. I've worked with hundreds of women in my business, and if there's one common denominator, it's that most women have closets jam-packed with clothes they don't really like. The average woman wears just 20% of what is in her closet. Why? Because we keep clothes for a variety of reasons, including:
Clothes that don't fit, especially ones that are too small, because we might fit into them again when we lose that 10-20 pounds with our new diet.
Clothes we paid too much for that we don't really like but can't bring ourselves to throw out.
Clothes someone gave us that we'd feel guilty about tossing.
Clothes that have stains, rips or lost buttons that we might be able to fix, but usually don't.
Clothes we bought on impulse because they were an amazing bargain but don't really go with anything else in our closet.
Clothes that are either a little daring or wilder than our usual style, that we want to wear, but never actually do because we just don't feel comfortable in them.
Sound familiar?? Staring at a packed closet yet having nothing to wear is frustrating. With all of us spending more time at home these days, it's the perfect time to rip the Band-aid off and finally clear out that closet. Trust me…you'll feel relieved and getting dressed will be a much easier experience!
WHAT YOU'LL NEED
2 days when you can have 2-3 hours of uninterrupted time. Breaking it up will help make it more doable and you'll avoid making poor decisions just to "get it done."
4 large trash bags
Your phone for notes and taking pics
A space to put clothes you're keeping – maybe on your bed, a spot on the floor or some end of your closet
Some soothing music you enjoy. Maybe a favorite beverage too!
DAY 1
Step 1: Grab 4 trash bags and label as follows:
CHARITY/FRIENDS/SELL
TRASH
ALTERATIONS
UNDECIDED
Step 2: Pull out all the clothes you wear most often. You shouldn't have to think too much about this. You feel good in these clothes, either because they're comfortable, you like the way you look in them, you have a lot to wear with them or all of the above. Usually it's around 20-30 items…favorite pants, shirts, sweaters, etc. Set these aside to KEEP.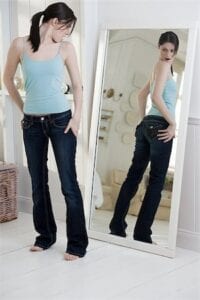 Step 3: Now, let's focus on bottoms (pants, skirts, shorts) and dresses that didn't make your "KEEP" pile.  Try each one on. Look in a full-length mirror and honestly ask yourself:
Do they fit? If NO – Put them in the CHARITY/FRIENDS/SELL bag. If you lose the weight, you'll want new clothes anyway.
If YES, are they flattering?  Put them on with the shoes you would wear with them. Pants should cover the shoe to about 1.5″ – 2″ above the heal. For dresses and skirts, most women look best with a hem that falls 1″ below the middle of their knee, particularly women who are 5'4″ and under. With this in mind, ask yourself: "How do I look/feel in them?"
If you kind of like them or don't have anything to wear with them, put them in the UNDECIDED bag.
If you like them but they need altering, put them in the ALTERATIONS bag.
If you're just not wild about them, they're no longer your style or you don't want to do those alterations, put them in the CHARITY/FRIENDS/SELL bag.
If they're faded, stained or have too much pilling, put them in the TRASH bag.
Special Considerations
Pants, skirts or dresses that are for special occasions, like Christmas or a formal event, are exempt from the "have I worn it lately" question, particularly in 2020 and 2021 since our lifestyles changed so dramatically! Think back over the last several years and honestly ask yourself if you've actually worn them. If not, you know what to do!
DAY 2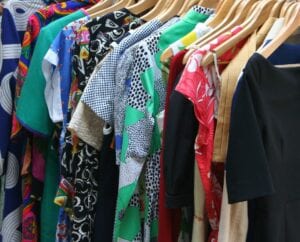 Step 1: You're getting good at this! In the second session, you're focusing on the upper body – blouses, sweaters, shirts and jackets. You're going to repeat the process above, asking the same questions. If you hesitate at all, it usually means you really don't like it, so find a home for it other than in your closet!
Step 2: Analyze your Undecided bag.  If you're going on three hours already and/or have a lot of clothes in this bag, you may want to do this on a third day when you're feeling fresh.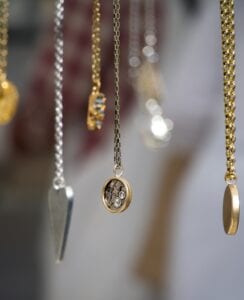 Ask yourself some serious questions about why you're hanging on to these items. If you have nothing to wear with them, think about what you would need to make them work. Maybe a couple of scarfs, a necklace or a different color bottom/top? If you can easily see what you might need and are motivated to keep the item, take a picture of it with your phone. Then, make a note in the "Notes" app of your phone of what you need to buy.  Shop with purpose to get these things to expand your wardrobe.
If you can't bring yourself to do this, then seriously consider putting these items in the CHARITY/FRIENDS/SELL bag. If you don't they're just going to continue adding to your closet clutter.
Step 3: Organize what's left.  When you're done with purging and have all your KEEP clothes, organize them so they are easy to see in your closet. Put tops together, pants together, dresses, skirts, and so on. If you have clothes that are specifically for work and for leisure, it might be helpful to separate them by group, then by type. Otherwise, once you have the groupings, try to put each group in colors – reds, purples, blues, greens, yellows, etc. You'll be amazed at how much easier it is to see what you have.
Congratulations! You've done the hard work. Now you have clothing in your closet you like and can actually wear!
Want to Learn What Clothing Colors and Styles Work for Your Body?
Now that you have your closet all cleaned out, you want to make sure any future clothing purchases work for your coloring, body type and body proportions. Our virtual or in-person Color Analysis and Perfect Clothing Fit services can help you do this! After analyzing your skin hair, and eye coloring and taking your measurements, we'll provide you with a palette of 40 of your best colors to take shopping, ensuring you buy clothing that looks great AND mixes and matches! We'll also provide you with a customized style portfolio showing you the styles and lengths that highlight your assets and diminish the areas we want to play down. Contact us today to learn more!