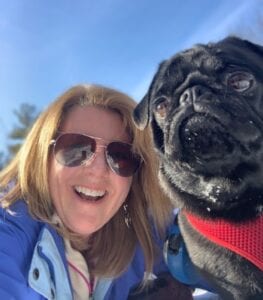 Women spend a lot of time criticizing themselves, particularly as they age. We see all of our imperfections which just seem to get worse with time, causing us to feel frustrated, unattractive and frumpy. I should know. I'm 5'2", in my 50's, with a pear or A-shaped body (take your pick) and have struggled to keep my weight in check through diet and exercise since I had my two children in my early 30s.
These challenges and negative feelings impact self-esteem and sap our positive energy. It doesn't help matters that the fashion, hair and cosmetic industries focus on the young, creating fads and imposing them on everyone through retail stores and fashion magazines. It doesn't seem to matter if these styles or colors actually look good on you. Think skinny jeans and leggings and colors that are "in" each season, like pastel pink or white in the spring, metallic eye shadows and silvery or purple streaked hair. And don't get me started on jeans sold with rips in them or clunky sandals! These are supposed to be attractive??
Dressing for what flatters YOUR body, YOUR face shape, YOUR coloring and YOUR personality should be timeless. Mainstream media do not tell women this though because it does not support sales for the industries that create the fads, who of course, are one the media's largest sources of advertising revenue.
That's why I started Radiant Image.
I'm tired of all this ridiculous misinformation that encourages women to buy clothing and makeup  that actually makes them look less attractive, older, and heavier than they are, the very things they're trying to avoid. The saddest part is that women don't realize what they're doing because they're being taught the wrong things. I watch women in clothing stores all the time buying clothes that do not flatter them. I see the hope and the excitement in their eyes when they find something on sale in their size that they think looks good on them. It's sad because I know they won't look how they want and they're wasting money.
I want to be part of a movement that teaches women the truth about how to dress in a way that flatters THEM. I want women to outwardly see the beauty within them, particularly women in the second phase of life, who have weathered life's hurdles with a few lines and some extra pounds to show for it, but have the wisdom to know that life is too short to be unhappy…and that it's never to late to learn and feel good.
Helping you look and feel good is what I do. My classes, services and blog posts are focused on teaching you how to make the most of your unique features, with tips and tricks for achieving a look that you can smile at in the mirror. Your self-confidence will increase and you'll find you have a bit more spring in your walk. You'll feel good about you, and at the end of the day, that's what matters most.
I would feel privileged to help you in your style journey and welcome your comments and questions about my services, classes or blogs posts.
Yours in style…
Candace